Lice Killing Shampoo
Get rid of lice immediately without pesticides or drugstore chemicals.
Create your own SUPER POWER Shield from LICE FOREVER!
And it's super EASY PEASY.
Just shampoo and condition!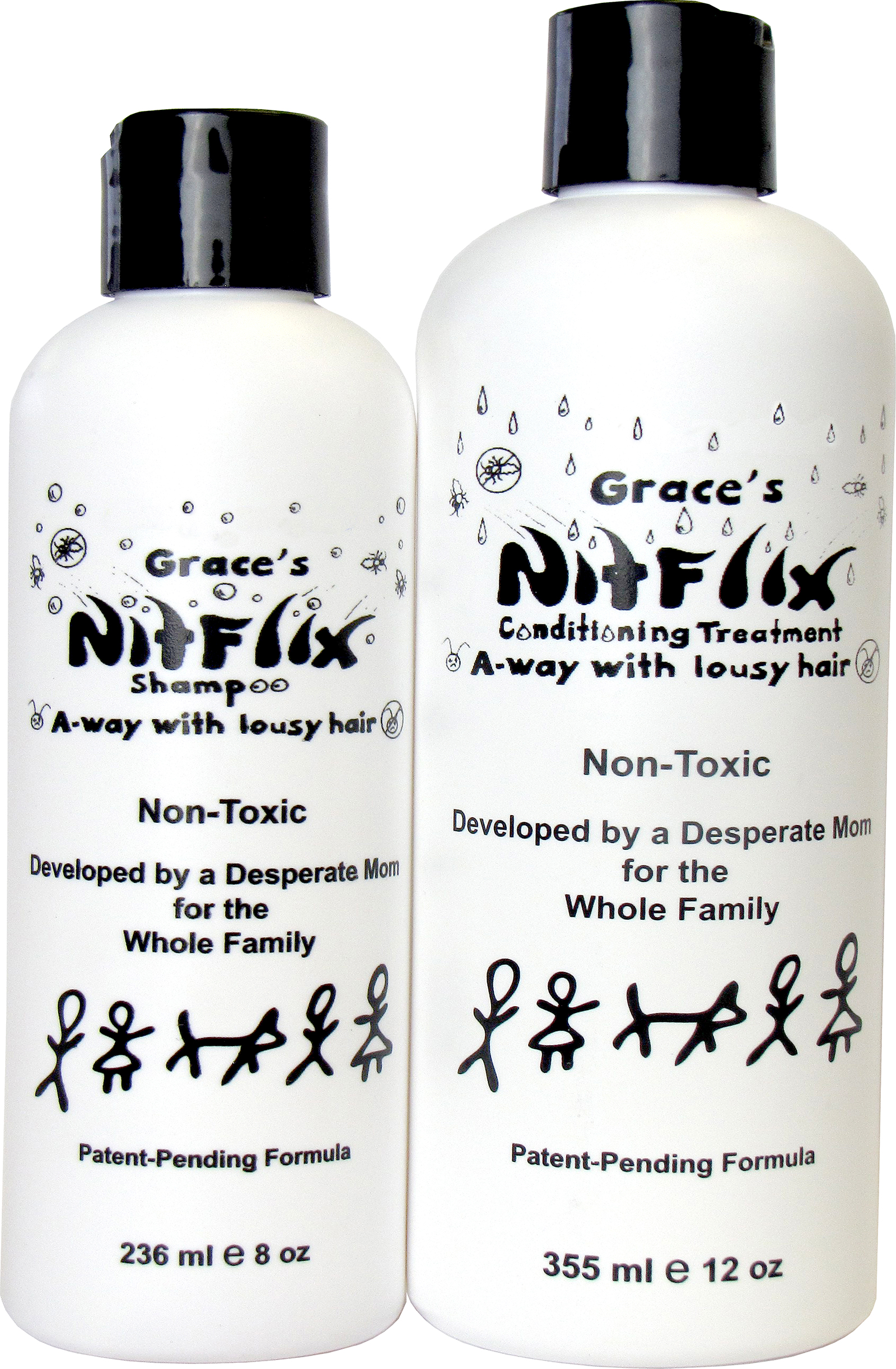 Lice Killing Shampoo
Lice LOVE big-brand shampoos & conditioners!

Your favorite brand may be THEIRS as well!
If you already shampoo your hair (once in a while, we hope for your friends' sake), you are probably using pretty good stuff from the salon, or drugstore, or beauty supply, right?
Awesome hair is usually the focus when it comes to choosing what to use.
But what do you do when lice make YOUR head their new home?
HIDE? SCREAM? SHAVE YOUR HEAD?
……or race to the drugstore for some poisons, chemicals, and pesticides in pretty bottles?
(eeeewwwww…are you scratching your head yet?)
What if you found out you could simply switch to a proven brand that:
is non-toxic…..really
is an Anti-Lice shield
is pesticide and chemical free
is lice-killing without chemicals
stops the spread of lice to your family & friends
is deeply moisturizing & conditioning to your hair
adds invisible anti-lice 'mask' that protects you from future infestations FOREVER….?
Step 3:
Proceed to Conditioning Treatment
Precautions:
Use consistently for best anti-lice results. Like super-heroes: They don't just wear their outfits once. They wear them all the time to combat the enemy!
Be sure you use your new anti-lice 'mask' all the time from now on! After using this lice-killing kit, NitFlix  becomes your anti-lice "outfit," so you'll never need a lice removal shampoo again!
WHY? Because you'll never have to worry about LICE again!
Paul L. Marcucci recommends NitFlix
"This product is like a vaccine against lice. My teen daughter still uses it. She started using the shampoo/conditioning set regularly many years ago for the protection factor and because it made her hair look shiny and smell great. The proof of its effectiveness came to me in a most astonishing way from her friend's parent in a phone call. I was told that her daughter had lice and since the young girls just had a sleepover the night before (in the same bed together) I may need to take action.
Truth be told: my daughter did NOT have any nits in her hair or lice on her scalp. I mentioned NitFlix to the mom and she started using it on her daughter's head immediately. Within 2 days they were gone. I recommend this product without hesitation because it is safe, healthy and 'clearly works as a preventative' as my story testifies to!"
Grace's NitFlix® Shampoo and Conditioning Treatment
When you order our treatment package you'll receive a 8oz bottle of Grace's NitFlix® Shampoo plus a 12oz bottle of Grace's NitFlix® Conditioner in one package.
Buy the bottle
to replenish your supply
As our returning anti-lice superheroes already know,  Grace's NitFlix® Shampoo & Conditioning Treatment MUST be used together according to easy peasy instructions for maximum lice shielding results.
So, if you are needing more of just shampoo or just conditioner, click below. To buy your first set, click here now!

Grace's NitFlix®
Shampoo
8oz Bottle
Non-Toxic Patent-Pending Formula
Grace's NitFlix® Conditioning Treatment
12oz Bottle
Non-Toxic Patent-Pending Formula
Satisfaction Guaranteed
Our goal is you loving our products. Should this not be the case, we provide a 30 day money back guarantee minus shipping and handling.
NOTE: We ship within the contiguous United States only. Please contact us if you're located in AK, HI, or PR.